Strong Employment Growth in February
What Industries are Doing Best?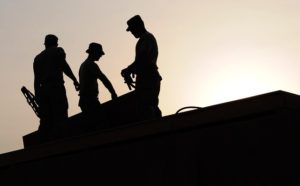 The February Jobs Report, released today by the BLS showed strong job growth. More than 235,000 new jobs were added to the American economy, exceeding expectations by more than 17%. The unemployment rate remained unchanged at a low 4.7%, but the strong increase in new jobs indicates many previously discouraged unemployed workers are re-entering the labor force. Strong gains were made in the construction industry, despite the fact that the new presidential administration has not yet released an official infrastructure development plan. Within the construction industry, the largest gains were made within the specialty trade contractor and heavy/civil engineering sectors. In total employment in the construction industry rose more than 58,000. In the past six months, the construction industry has created more than 177,000 new jobs, so the single month of February represents nearly one third of all new job growth in that area. Strong construction growth moving into the Spring and Summer months represents a positive sign for the economy.
Another surprise in this past month's job report is the increase in manufacturing jobs. The manufacturing industry added more than 28,000 new jobs last month, with the strongest sectors being food manufacturing and machinery. The transportation equipment sector however, lost 6,000 jobs. Not all is lost with the transportation sector however, recreational vehicle construction has hit a production level not seen since the 1970s. This is a very strong indicator that consumer confidence levels are reaching highs not seen since before the 2008 economic recession.
Even seemingly forgotten industries such as mining added new jobs this past month, increasing payroll by 8,000, which is surprising considering the industry hit a recent low shortly back in October of 2016.
The biggest loser in jobs report was retail, which lost 26,000 jobs. Facing stiff competition from online retailers, most notably Amazon, this comes as little surprise. Most recently, JCPenney announced they were closing more than 140 stores. Additionally, Sears and Kmart are closing 150 stores total. Workers in retail be would well-advised to start planning their exit strategy into a new industry soon.
Consumer Confidence and the Economy
Here's more good news for the economy: Consumer confidence levels have hit a 15-year high. Consumer confidence levels measure the health of the business environment and optimism about the economy. Individuals surveyed who reported it was difficult to find a job returned to pre-2008 recession levels for the first time. In general, consumers are expecting the labor market to improve and the business environment to become more favorable in the near future.
For the average American, one might expect this to result in increased spending in the hospitality and professional services sectors. However, brick-and-mortar retail is not expected to greatly benefit, since activity has steadily drifted towards online retailers for the past decade with little indication of reversing.
Is Trump Responsible for this Job Growth?
With mostly positive job reports since the election of Donald Trump, many are beginning to speculate whether or not he is responsible for the strong economic growth we have been reporting. As one commentator put it, the data is unclear as to how much influence a president has over improving the economy. Nonetheless, Donald Trump has been taking pride in the job growth and consumer confidence levels.
However, many economists are attributing this strong job growth to Obama. Social media feuds have been erupting about who is responsible for the strongest February job growth rate in three years. Even Slate Magazine is pushing back against the idea that Trump is responsible for the increase in job growth.
Despite the high job growth in the construction and manufacturing, Donald Trump has yet to release a comprehensive infrastructure program, which he promised during his campaign. It remains unclear when, where, and if this will be released.
Time for a Career Change
With a changing economy, individuals need to prepare themselves to be able to take on new responsibilities and duties. Brick-and-mortar retail, traditionally one of the largest employers, has been consistently losing jobs due to increase in popularity of online retailers. Luckily, individuals in these roles have developed many transferable skills, including customer service, conflict resolution and task management.
---
Looking for a career change? Contact us at 773-525-2450 to speak directly with an experienced resume writer.